PRIVATE Electric Scooter TourS
E-Scooter in Copenhagen (Tour & Rental)
This private tour is an awesome way to see the city in a fun and relaxed way. We have designed a great 90-minute tour which will cover the main sights when you visit Copenhagen, including The Little Mermaid, Nyhavn, Amalienborg Palace, the Marble Church and much more!
We also have a 15 min café stop midway through in the beautiful Royal Theatre where you can sample some of the best coffee in Copenhagen or our famous Danish pastries. Please note purchases made at the café stop is not included in the price.
A private tour will ensure you get the guide exclusively for your group and we go in a pace you are comfortable with.
We start off with a short intro to the electric scooter – it is super easy to learn and within 5 minutes you will have it down. You then start the tour along the water front through Copenhagen. Your guide will explain about the sights you pass on the radio system, making this a perfect way to see even more in a shorter amount of time.
Photo stops are of course possible on the tour, and the scooter makes this so easy and convenient to do.
Price is 450 DKK pr person with a minimum booking of 4 people.
PRIVATE TOURS ONLY 
(this is a fixed price no matter if you are less than 4 persons. For example if you are 2 or 3 persons, you would still pay for the equivalent of 4 persons, i.e. 1800 DKK to enjoy a private tour of Copenhagen just for your own group! We can take bookings up to 5 persons in total pr. tour)  
You will be cruising on the exclusive American brand "Bird scooters" used for ride sharing all over the US but also in key European cities. With their aluminium chassis, this is a smooth and comfortable ride.
CALL US IF YOU WOULD LIKE TO RENT AN E-SCOOTER & RIDE ON YOUR OWN AROUND TOWN
Our guides can't wait to take you out and show you and your group Copenhagen!
Practical info: Minimum age 12 years. Maximum weight 85kg.
Not suitable if you are pregnant or have any mobility issues.
Why a Guided E-Scooter Tour in Copenhagen is A Good Choice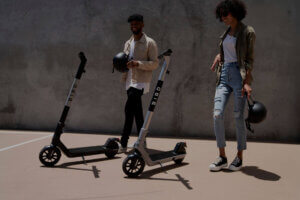 Copenhagen is home to many beautiful tourist attractions and scenic landscapes. It has a rich history filled with high culture and art, boasting some of the world's best architecture as well as famous monuments. But it also offers plenty of modern conveniences like shopping malls and lots of  dining options in all price ranges.
Take your e-scooter to cruise through vibrant neighbourhoods or make a stop to check out Copenhagen's latest art exhibitions at the various museums are both equally rewarding experiences in this city where the happiest people in the world live!
The city of Copenhagen is becoming a true metropolitan, multi-cultural city in many ways that it has never been before and you can scoot around and visit the different areas that each has their own cultural mark to it. We recommend a good long weekend to cover most of your Copenhagen sightseeing needs. 
Experiencing Copenhagen from an e-scooter is a fun experience for the whole family or if you are a group of friends who need some extra convenience. You can also rent our e-scooters for your entire Copenhagen stay if you wish. 
These are some of the highlights that we would like to point out: 
A guided tour on an e-scooter in Copenhagen helps you get a better understanding of the city and its people. This way, you can learn more without having to do as much research on your own. It also gives you a chance to get a great overview of the city and decide what you would like to explore further afterwards. 
Copenhagen is packed with history, but some of it has faded away or is overlooked. A tour guide can show you the city and help you discover parts of it that you would have missed on your own. This way, you will have a deeper appreciation for what this city has to offer. You will be able to see it as something more than a tourist destination, and you will be able to see yourself here as well.
A guided tour with an e-scooter in Copenhagen will also minimize the planning you need to do on your own. From being able to book ahead of time and find out information about the tour to making sure you have a comfortable trip, it will all be taken care of for you. As a tourist, it can be challenging to navigate an unfamiliar city. Our tour guide will take care of all these details so that you can focus on having fun.
Benefits of Exploring Copenhagen by E-Scooter
There are many benefits of exploring Copenhagen by e-scooter. You can get around quicker using the e-scooters. Plus, depending on your location, it is sometimes unlikely that you will be able to find a taxi. E-scooters in Copenhagen offer a fun way to get around while still seeing the sights with ease. No need to wait for a bus or train that runs at 10-minute intervals or plan out your entire day before you leave the hotel room.
When you are on your e-scooter, you will be able to enjoy the scenery more. You will be able to stop and take pictures, talk to locals, and enjoy all the different colors, textures, and sounds of Copenhagen.
E-scooters are a fast and easy way to get around town. With Google maps right in front of you, it is the perfect way to get around the city without having to worry about being lost. It is also one of the easiest and quickest ways for you to find your way when you don't have any other means of transportation.
Another benefit is that you can charge the e-scooter at any of the charging stations in Copenhagen. So, you will always have a full charge. This is one less thing to worry about when you are on your e-scooter tour in the city of happiness.
E-Scooter Rental in Copenhagen Is Great To Visit Attractions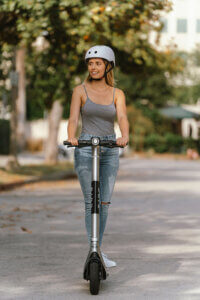 The Little Mermaid – There are many reasons to visit Copenhagen, but perhaps the top reason is to see the Little Mermaid. This iconic statue is one of the city's most famous landmarks and a top tourist attraction. The Little Mermaid was created by Hans Christian Anderson, who wrote the story of "The Ugly Duckling" while living in Copenhagen. He saw the statue in his dreams and decided to write about it. When he woke up, he realized that the statue resembled a little girl, so he changed her into a mermaid. Today, she stands at the base of the Little Mermaid Statue Park, located right next to the main train station. It is very easy to get there when you order an e-scooter rental for Copenhagen.
Tivoli Gardens – Tivoli is the world's second-oldest amusement park, and it's been delighting visitors since 1843! It's home to some beautiful gardens and architecture. You'll find everything from roller coasters and Ferris wheels to a lovely rose garden and lots of other beautiful attractions to see in the gardens. Tivoli Gardens is open year-round and is a must-see attraction in Copenhagen, whatever time of year you visit. There are rides, shows, restaurants, and a lake, and the park is split between two locations, the larger Tivoli Vesterbro and the smaller Tivoli Frederiksberg. You'll find plenty of fun activities for all ages! This is one of the most popular destinations for tourists who choose an e-scooter rental in Copenhagen.
Amalienborg Palace – If you love architecture and beautiful big old buildings, then a visit to Amalienborg Palace should be on your Copenhagen itinerary. This beautiful building is home to the Royal Danish Family during winter. Amalienborg Palace is open to visitors from May to September, with tours available in Danish, English, German, and French. If you plan to visit, you should know that you must comply with specific etiquette rules and regulations. For example, men and women should wear long trousers or skirts, with no bare legs. You'll also need to be respectful when taking photos of the building.
Nyhavn – Nyhavn is one of the most beautiful parts of Copenhagen's waterfront. If you've ever watched the popular TV series The Killing, you'll have seen Nyhavn in all its glory! This picturesque canal is home to many colorful houses and is a top tourist attraction in Copenhagen. You can spend hours wandering around this charming part of the city, admiring the beautiful buildings and taking in the sights and sounds of the city. Nyhavn is a must-see attraction for tourists who decide to get an e-scooter rental in Copenhagen and is best visited at sunset or at the start of a clear night.
Christiania – You should end your visit to Copenhagen with a trip to Christiania. This self-proclaimed autonomous neighborhood is a top tourist attraction in Copenhagen that you must visit. Christiania is a former military compound squatted in the 1970s that turned into a free zone. It's now a cultural hub full of artists, musicians, performers, and activists. It remains an autonomous neighborhood and is a must-see attraction in Copenhagen. Christiania is one of the city's most colorful and unique neighborhoods, where you'll find everything from colorful buildings to street art.