COVID-19 SAFETY MEASURES STILL IN PLACE! 
(ALL OUR SEGWAYS ARE DISINFECTED AFTER EACH TOUR, HELMETS SANITIZED & SAFE DISTANCING BETWEEN EACH SEGWAY CRUISER)
Segway Tour Copenhagen
Everyone can join and have a blast on our Segway Copenhagen tours. After a short intro and training we will make our way through the charming streets of Copenhagen

ICONIC SIGHTS
Our Segway Tour Copenhagen uniquely starts in a no-car zone; a great way to take off whilst still seeing iconic sights such as The Little Mermaid, Royal Opera House & Amalienborg.

The latest models
We are the only authorized Segway Tour & Event Operator with the newest machines in Denmark so you'll be exclusively cruising on the newest models.

SHORE EXCURSIONS
Arriving by Cruise ship? We are right by Langelinie Quay & only a 10 minute taxi ride away from Ocean Quay. Let's take you from an ocean cruise to a Segway cruise!
This years gift idea!
Save 20% on your booking
Give a GUIDED E-BIKE TOUR IN COPENHAGEN
Three simple steps to get you started!

Choose your preferred Segway Cruise tour

Book the tour online via our easy booking system

Done! You get a booking receipt with all details and then we look forward to seeing you! 
Segway Tour Copenhagen
We offer tours you can count on and the best prices. Just ask our 1000s of customers or read our many reviews.
City Center Cruise
1 HR // DKK 349 // EUR 47
About the tour
Start / End point: Langelinie Alle 58, 2100 Cph.
You'll cover the city center from Langelinie Pier all the way to Nyhavn. Iconic!
Imagine starting your Segway Cruise Tour at our unique waterfront location, which as a result of being right on Langelinie Pier is a beautiful way to take off in a non-traffic zone!
Your Segway Tour Experience includes your check-in and short training lesson in private and spacious surroundings, you're within minutes able to see the Little Mermaid and other major attractions in Copenhagen. Yes, get excited! 
The Attractions
Maritime Monument
Little Mermaid
Amalienborg
Princess Marie of Orléans
Gefion Fountain
Gefion Bridge
St. Alban's English Church
Holmen (The Marine)
The Opera
Frederik's Church (Marble Church)
Royal Danish Playhouse
New Harbour (Nyhavn)
The Royal Pavillons
Kings New Square (Kgs. Nytorv)
Kastellet (The Citadel)
Book this tour now because it's a fast and fun way to get to know Copenhagen!
Bonus!
We'll end your Tour with a little Segway souvenir alongside your complimentary organic refreshment – this is especially in line with our belief of a green, sustainable lifestyle.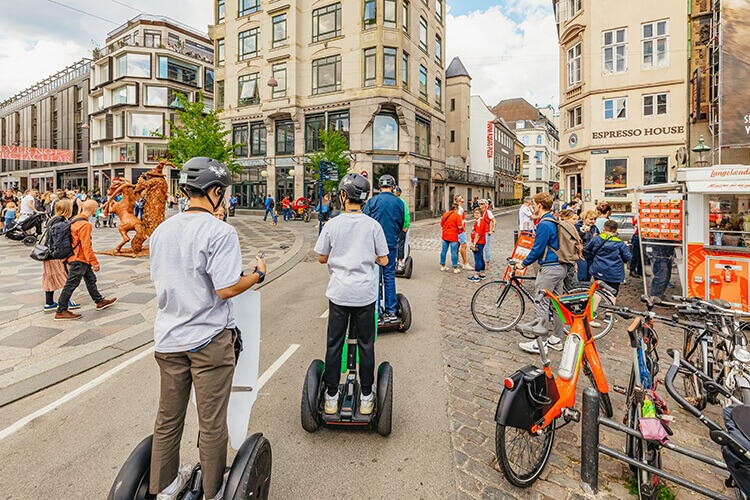 About the tour
Start / End point: Langelinie Alle 58, 2100 Cph.
Imagine just cruising away on your Segway® PT together with your guide fully being able to take in Wonderful Copenhagen and all its sensations!
You start off in a non-traffic zone alongside the pier – trust us when we say it is a beautiful way to take off.
After a short training lesson in private and spacious surroundings, you're within minutes on your way to see the major attractions.
The Attractions
Maritime Monument
Little Mermaid
Amalienborg
Princess Marie of Orléans
Gefion Fountain
Gefion Bridge
St. Alban's English Church
Holmen (The Marine)
The Opera
Royal Danish Playhouse
New Harbour (Nyhavn)
The Standard (Old ferry terminal)
Danish National Bank
Børsen (Danish Stock Exchange)
Royal Danish Library (Black Diamond)
Ny Carlsberg Glyptotek
Tivoli
City Hall Square
Christiansborg (Danish Parliament)
Kings New Square (Kgs. Nytorv)
Royal Danish Theatre
Odd Fellow Mansion, Copenhagen
Frederik's Church (Marble Church)
Inner Harbour Bridges
Strøget
Kastellet (The Citadel)
Book our 2-hour cruise now because it simply covers everything you must see when you visit Copenhagen.
Bonus!
This option includes a small break halfway through at a "hyggelig" Danish & Organic cafe – August B – in the Royal Theatre. Special offers apply for our Segway Cruisers.
We'll end with a Segway souvenir alongside your complimentary, organic refreshment – especially in line with our belief of a green, sustainable lifestyle
1000s of happy segway Cruisers
Corporate Events
Want a top-notch event you can just book and let us handle the rest? Then book your VIP Corporate get-together with Segway Cruise.
We have many ideas that can go on for an entire day or just a few hours. Segway Cruise Events does everything from team-building activities, fun-games, obstacle courses, treasure hunts and much more! We can also tailor-make different sightseeing tours by Segway.
PRIVATE Segway COPENHAGEN Tour
Would you and your group like a private Segway Copenhagen Tour?
THE EXCLUSIVE OPTION: With no minimum bookings of people in your group, we will ensure that you with your own guide can start your chosen Segway Cruise Tour at a time suitable to you.
LANGUAGES: We can also do tours for you in GERMAN & CHINESE! 
Our Segway Tour Copenhagen keep your group together!
Let us arrange a Rickshaw or a bike on the side for the people in your group who don't want to or are unable to cruise on our Segways.
Their loss of course! But it's a great way to keep your group together and experience Copenhagen with one of our top-notch guides. We will have it all ready for you for your arrival. Call or email us to get a quote  as you need to pre-book this option!

Great prices
Best prices on Segway Tours in Copenhagen – Guaranteed!

Proud Favourite
We are proud to be the no. 5 out of 125 best things to do in Copenhagen

Cruisers love us!
From 2018-2021 we received each year the coveted Tripadvisor's Certificate of Excellence AND the Luxury Travel Guide Award's most Unique Sightseeing Tour of 2022! 
Frequently asked questions
How to find us?
TAXI / CAR:
Tell your taxi driver or input into your GPS our address: LANGELINIE ALLE 58, 2100 COPENHAGEN. This will take you to the backside of our store and then you just need to walk through the big arch and there you will find us on your left hand side! On the backside we have ample of paid parking in the Green Zone (click here to see prices!). You can pay with credit card at the machine, you don't need the easy park / other app. If you have it then great!  
PUBLIC TRANSPORT:
The closest station to us is Oesterport station. It will take you 10-12 min walk to walk over to us on Langelinie Alle 58.
You can also see if you can time with bus #27 and grab it from Oesterport St. (Folke Bernardottes Allé) if you are not in the mood for walking. You need to get off at the roundabout at busstop: "India Kaj" and walk for 5 min over to us. During less busy months in the port area, the bus stops almost right in front of our shop on Langelinie Kaj. 
If you are coming by bus – then did you hear the one about the woman and her baby? A woman gets on a bus with her baby. The bus driver says: 'Ugh, that's the ugliest baby I've ever seen!' The woman walks to the rear of the bus and sits down, fuming. She says to a man next to her: 'The driver just insulted me!' The man says: 'You go up there and tell him off. Go on, I'll hold your monkey for you.'
CRUISE SHIP GUESTS
If you are arriving by one of the many cruise ships stopping in Copenhagen, we are right at your door step – just find shop #52 as you come out of the ship (to the right hand side of "Marina Lounge"). It is super convenient as you go from a Ship Cruise to a Segway Cruise!
If you are arriving at the other port: OCEAN QUAY then grab a taxi (only 10 min!) or a bus, which of course will take longer. 
CITY BASED GUESTS
Jump in a cab and let your driver know you are going to: Langelinie Alle 58, 2100 København Ø. Otherwise there is also the metro and bus solution described above. If you are in a car, then we have plenty of parking in Green Zone when you input our address in your GPS. 
AGE RESTRICTIONS FOR KIDS TO CRUISE on a Segway?
To join our our public tours the child must weigh at least just around 35 kg whilst fulfilling our minimum height requirement of 135 cm.
If you have kids in your group who you do not want to take into any traffic at all then for a small fee and subject to guide availability we are happy to plan a route that does not enter traffic at all and only for you and your family /group. 
Another option is that we can always arrange for a Rickshaw to follow alongside one of our Segway tours if you have kids that cannot be on a Segway at all (or if any elderly would like to come out too). It is a great option to stay together. Please note we need at least 48 hour notice to make a Rickshaw arrangement.
WHAT IS THE Segway procedure?
STEP 1:
You will be requested to arrive 15 min before your booked departure time for our "check-in". This is where you get your safety helmet, radio equipment to hear your guide's stories of Copenhagen and sign our waiver of liability. We then proceed to take you to our training course right behind our store. Here we have an excellent space to train you in quiet surroundings with no curious onlookers. Please be very mindful of arriving on time, i.e. 15 min prior to your tour start. 
Our guests usually are ready to take off within minutes – it is truly that easy! 
STEP 2:
You take off on your Segway tour of Copenhagen led by your guide! 
STEP 3:
You end your Segway Cruise Sightseeing tour back at our store where a complimentary, organic beverage awaits you. If you passed our 'test' there is also a small fun souvenir waiting for you….
Many of our guests hang out afterwards and enjoy the sea-side view. Feel free to do so as well!
WHAT IS A SEGWAY MACHINE?
Segway® PT's
A Segway Personal Transporter is a self balancing transportation device that allows you to freely move around where ever you want to go. It's super easy to use a Segway – it uses a gyroscope to detect the movement of your body. When you lean forward it goes forward, when you lean backwards it breaks. The Segway slows you down if you are going too fast and it will hold your balance perfectly as long as the tires have traction. You should never jump or do tricks on a Segway.
Segway Cruise only uses the latest Segway models: i2SE so you are in for a real treat especially as the company has stopped producing these machines. 
Is it difficult to STAND ON A SEGWAY?
Of course it's not! Otherwise we couldn't be doing what we are doing.
Your guide for your tour will expertly train you until you feel comfortable to take off on your Segway. Most of our guests are ready within a few minutes! But no pressure. Luckily our tours also start in a car-free zone so you have plenty of time to connect with the Segway. 
Riding a Segway consists of two main movements: 1) SPEED: Leaning forward to drive, lean backwards to slow down and stop. 2) DIRECTION: You control the direction with turning the handlebar either left or right with your arms. No need to work out prior, the Segway machine is light and easy to turn 😉
It will all be demonstrated efficiently by your guide before you get on the machine. Or just have a look at our YOUTUBE CHANNEL. 
Our training course provides a great and private setting to practice. Therefore do get to us 15 min before your booked tour time to learn. 
what are the languages of the guided tours?
All our Copenhagen Sightseeing Tours which can be booked online are all conducted in English. If you would like to book with a Danish speaking guide then contact us for availability.
We also have weekly tours conducted in German - click on "BOOK NOW" and see the departure timings. 
Please contact us if you want a private tour in another language. 
All our guides are proficient to speak a min. of 2 languages - for example Russian, Chinese, French and Spanish.
ARE YOUR segway tours with radios? (YES!)
Imagine cruising through the charming streets of Copenhagen on your own Segway while listening to your guide's exciting live commentary of the monuments and sights that you pass. Our radio-system means less stopping and more Segway cruising to get to know the city! 
Our local guides really make an effort in knowing some out-of-the-box anecdotes and facts that you might actually remember! We do pride ourselves in that we have a solid team of enthusiastic tour guides with proficient knowledge of Copenhagen.
The language
Our Sightseeing Tours bookable online are run in English. If you are a Danish speaking group only about to book a Segway Cruise Tour then call/ email us to see if we can accommodate that. Check online if we are running tours in Danish.
We do also offer German tours. If you click on "Book Now" it will be evident how to book these tours. Otherwise just email or call us!  
DO YOU ACCEPT THE COPENHAGEN CARD? (Yes - for q1 of 2022!)
Yes! It gives you a 15% discount on our Segway Tours in Copenhagen. To get the Copenhagen Card discount, use the code: "Cphcard" at checkout. Please remember to bring your card to confirm your eligibility for the tour discount once you arrive at the store. Please note that the Copenhagen Card is being phased out during Q2 of 2022 and no longer accepted after this. 
RENT A SEGWAY IN COPENHAGEN
With Segway Cruise in Copenhagen you can always rent a Segway guided tour around the city with one of our great guides. You can either rent a Segway for 1 or 2 hours – it is really up to you how much Segway'ing you can handle. When you rent a Segway with us it is always in connection with a guided tour. If you would like to rent Segways outside of Copenhagen then please use the following contact: +4522190317 or shoot us an email: info@segwaycruise.com 
We have the best prices in Copenhagen.
Unique routes with iconic sights away from all the traffic.
We are the only officially authorized Segway Tour Operator in Denmark.
We have all the latest i2 Segway models ready for you.
SEGWAY RENTAL AT ITS BEST
We are located on Langelinie Pier: The perfect take-off spot for a Segway tour! You will ride the Segway alongside the waterfront without bustling traffic while we pass by some of best sights Copenhagen has to offer.
You will see iconic and popular monuments in Copenhagen while our Segway guides will tell you all the rich and interesting stories behind these – alongside some stuff off the beaten track.
GUARANTEED UNIQUE SIGHTSEEING IN COPENHAGEN
There is something special about experiencing sightseeing in Copenhagen from a new and fresh angle! Therefore don't miss out and so if you haven't already tried our Segway sightseeing in Wonderful Copenhagen then go ahead and book now. It is our sole mission that you have a good time with Segway Cruise! If you are in doubt about whether or not Segway riding is anything for you then definitely do browse through our many 5* reviews and each reviewer's unique experience with us. We feel confident that we can provide you with memorable worthy moments on one of our Segway sightseeing tours.
WOULD YOU LIKE TO RENT A SEGWAY WITH A GUIDE?
You can book your Segway tour in Copenhagen directly through our online booking system. It is super easy and only takes a few minutes to rent that Segway with one of our guides. As soon as your tour is booked you will receive an instant confirmation on your email.
You can also rent it privately for your own group with your very own guide. We can even arrange for the tour to be in one of the following languages: German or Chinese! 
Get in touch for pricing and any special requests you may have.