Copenhagen, A Great Tourist Place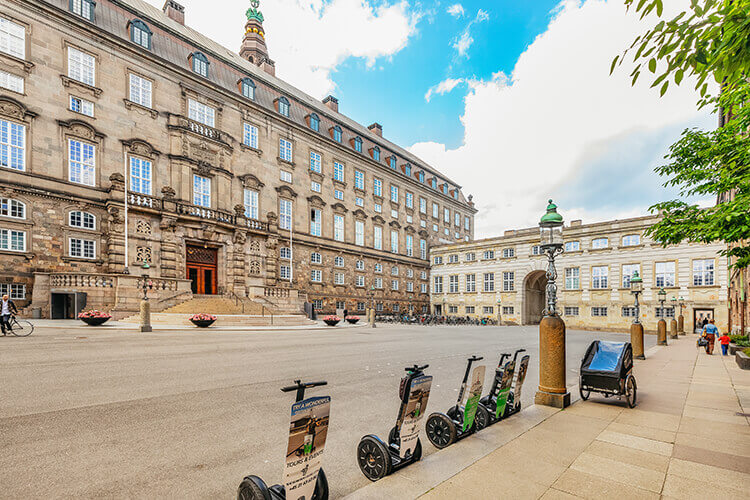 Copenhagen is considered one of the great tourist places and was the winner of the best destination for 2019 by Lonely Planet for a reason! AND mentioned on CNN Travel's 20 best places to visit in 2020. Go Copenhagen!
Your dedicated Segway Cruise Copenhagen tourist place guide team would like to share with you just why we are also of that opinion. We took as usual a much heated vote at the office and eventually together decided on these top must see Copenhagen tourist attractions. We want to contribute to you having a great experience in our wonderful city – especially on our Segway tours and that is why these must see tourist places are also included on our tours:
THE LITTLE MERMAID, Tourist PlaceS
Please note that we do cover this sight on our tours. For more info click here: All our Copenhagen Segway tours
FACT: It is only 125 cm tall and in bronze. Unveiled in 1913 and is a central figure in H.C. Andersen's fairy tale of the same name.
WHY SEE IT: Most iconic symbol in Copenhagen. When you see the large crowds at this Copenhagen tourist attraction, you will feel the urge to make your way to see what all the fuzz is about…. And whether or not it lives up to your expectations is a matter of individual perception….
TIP: Continue onwards on just a 5-minute walk – or in our case – a couple of minutes on the Segway tour – and see the Gefion Fountain too. It is large and impressive along with being an emblem of achievement in Danish sculpture.
TIVOLI GARDENS, Tourist Attractions
Please note that on our 2 HR Copenhagen Cruise tours we do pass Tivoli
FACTS: World-renowned amusement park from 1843 with lots of eateries, theaters and not-to-be-missed fun rides!
WHY SEE IT: Great atmosphere, great food and beautiful surroundings in the middle of the city center. It is truly a top Copenhagen tourist attraction and just as much to most Danes. Many of them have year-passes that one can purchase so they can get inside Tivoli gardens at a discount whenever they please.
TIP: Stay there until it gets dark and try rides while they are lit up in different colors and see the fireworks at midnight. Check on their website which days the fireworks are on. Truly spectacular. Also there are a range of open-air concerts during Summertime so see if you can plan your trip to include a musical experience. It may be that the focus is on Danish artists but then you can say been-there, done-that, heard-that…. The verdict we will leave to your individual taste palates 😉
AMALIENBORG PALACE, One Of Tourist Places Near Me
Please note that we drive on our Segways right into the Queen's Palace grounds. If you are lucky with your timing you might even catch the Changing of the Royal Guards. We recommend the 10.00-12.00 2 HR Segway tour to maximize your chances thereof. However, when this is happening we cannot go inside with the Segways but we can surely catch a great sight from outside!
FACTS: Dates back to 1748 and is one of the rare Rococo palaces in Denmark.
WHY SEE IT: It is the only attraction in Copenhagen to feature on the UNESCO's world list of heritage sites – and the Queen really lives there….! You can see if she is home if there is a flag on top of her residential building. Our enthusiastic Segway guides are always keen to point this out! However, we must admit, she is rarely at home as she of course has many castles around Denmark and one in France. During the Summertime she is normally in Fredensborg, which is situated in north Zealand. Another beautiful site to visit if you are venturing outside Copenhagen.  
TIP: The changing of the guards is a must-see tourist attraction especially if you happen to enjoy the military aspect of this.
NYHAVN, Tourist PlaceS
Please note that Nyhavn – the place with all the colorful buildings – is covered on both our Segway Cruise Tours: The 1 HR City Center Cruise and our 2 HR Copenhagen Cruise.
FACTS: Nyhavn is built around a canal dating back to 1673 and right in the very middle of Copenhagen. There are a variety of restaurants and most importantly to some: BARS!
WHY SEE IT: It encapsulates the atmosphere of the Copenhagen vibe and lifestyle especially if you are lucky enough to catch it on a sunny Summer day. It is not only a tourist haunt but many locals and Danes from all over the country come here to enjoy a cold beer.
TIP: While here then on our Segway tours, you will also see where H.C Andersen lived as he wrote the famous fairytales, "The Tinderbox" and "The Princess and the Pea". We will point out the two places he lived especially as 2019 marks the 200th Anniversary of his arrival in Copenhagen.
Nyhavn is definitely a top tourist attraction in Copenhagen. As it is the most photographed place in the city that should also attest to this statement.
CHRISTIANIA, A Signtseeing Near Me
This is unfortunately not covered on our regular Segway Tours. However, if a private tour is preferred then it can easily be arranged! Click here for more info. 
Our team was a bit divided here on whether or not Christiania should make the list… As we live by "majority rules", it did! Please note that some people find the atmosphere completely relaxed while for others it can feel a bit anxious… The entrance at Pusher Street (think the name says it all) can – for some – be a bit unpleasant but also depending on the time of day you choose to go. Generally, tourists who are leaning more towards alternative lifestyles are quick to positively embrace Christiania.
FACTS: It is a self-proclaimed autonomous district in Christianshavn (a part of Copenhagen, located directly opposite the city center on the other side of the water) that was established by a hippy community in the early 1970's. It is very nicely placed next to the water and there are a couple of good cafes inside.
TIP: Book a guided tour from rundvisergruppen.dk

If you are on one of our private VIP Segway Tours in Copenhagen where you have requested to include Christiania then our guide will wait outside with the Segways while you go in and explore. Guides who are not affiliated with Christiania are not allowed to guide inside.
To get to Christiania then we move into the "Christianshavn" part of Copenhagen. We access on the Segways via "Inderhavnsbroen" just by Nyhavn and thereby you can also see the cute little food-market right on the other side – another significant draw for both locals and tourists. Only open though during Summer time.
If you have included this part of the city on your tour you will also be able to cover, Our Saviour Church and Christian's Church up-close. These are historic and architectural landmarks. From our regular 2 HR Segway tours you are still able to see them, but more from afar. 
Christianshavn is definitely not to be missed if you have the time and want to experience a different part of Copenhagen. We have people who sometimes book a 3 hr Segway Tour  to include this (with breaks and photo stops of course) or just a Segway tour only focusing on Christianshavn. The final choice of course lies with you.