Sightseeing Tours & Corporate Events
Book a tour now with Segway Cruise in Copenhagen
Segway Cruise Copenhagen
Book the best priced Segway Tour in Copenhagen
Segway Cruise Copenhagen
The only authorized Segway Tour Operator in Denmark
Book your FREE* taxi ride to our store NOW
(*up to 50 DKK pp & only with direct bookings on this website and with no discount codes)
Segway Cruise Copenhagen
Everyone can join and have a blast on our Segway tour. After introduction and training we will make our way through the charming streets of Copenhagen.

SHORE EXCURSIONS
Arriving by Cruise ship? We are right by Langelinie port, and only a 10 minute drive from Ocean Quay. Let's take you from an ocean cruise to a Segway cruise!

ICONIC SIGHTS
The tour will uniquely begin along the water in a no-car zone; a great way to take-off whilst still seeing iconic sights such as The Little Mermaid.

The latest models
We are the only Segway Tour & event Operator with the newest machines in Denmark so you'll be exclusively cruising on the newest models.
Three simple steps to get you started!

Find and pick your favorite Segway Cruise tour

Book the tour through our online booking system

Done! We look forward to share a fun day with you
1000s of happy segway Cruisers
amalielykkes

So much fun! I had the great pleasure of having Jonas as a guide, and he made the tour so much fun! I... read more am born and raised in Cph, but some friends and I decided to book a guided tour just for a laugh, and his fun facts and jokes made it a great afternoon!

Jhorner788

Segway Copenhagen This is a great way to get a street view of the city. Segways are easy to use and it... read more is much better than walking. We went all over the city looking at the sites and our guide was able to point out interesting highlights (Hans Christian Anderson's home). I would recommend this very highly to get a good idea of the city.

CCiiler15

BEST Segway Tour! My wife and I have been on 5 Segway tours when we visit places and this was by far the... read more best experience we've had because: The guide was excellent; we had a bit of a problem with flight delays and they were so kind and accommodating. They had the newest Segway models and a great radio system. The guide knew so much about the city. And there was a whole setup when we returned. They helped us with some recommendation. The safety instructions were thorough and in a big area.For me the customer service was just what made this the best Segway tour we have been on. Many thanks, we recommend you.

jesperkk14

Fantastic experience for the family We had a Family outing between christmas-new years, and our guide Mathias showed us such a fun time on Segways!... read more Can highly recommend it, even though we are Danish we learned a lot and everyone enjoyed it. Mathias was very experienced in the Segways and could answer all our many, probably annoying, questions about the machines. Impressive! Thanks for a fun afternoon.

stuartsanders1981

Fun and personal tour of Copenhagen Booked 2 hour tour for the family. Was definitely worth every penny. It was a small group and the guide... read more Rune was attentive and funny throughout the tour. Safety was a big priority and we had practice before we began the tour. They ask you to come earlier for this so it doesn't cut into your tour time which was great. Our guide knew Copenhagen really well and could answer all our questions. The booking process was very easy and other staff back at the store and via email all very helpful. Can highly recommend the 2 hour Segway tour!

carolI9424AT

great way to see the city The staff was so great. Since Copenhagen was the last stop on our cruise, we asked them to store our... read more bags (15 bags for a family of eight!) while we took the tour. We saw more on the two hour tour than the last time we were in Copenhagen. Mathias was a great guide. Chips and beer and drinks were waiting for us when we returned. I could not have asked for more.

AlanM283

Excellent, fun way to see Copenhagen This tour company is outstanding. Real value for money experience in Copenhagen. We had an excellent tour guide in Villads... read more - he made sure we had a great time. Safe and great fun. I can highly recommend it!

626robr

Best way to see Copenhagen My family and I were ending our two week tour of the Baltic. We had several different types of tours... read more in other countries and were looking for something different in Copenhagen. With all of the bike lanes they have, we felt the Segway would be a great option. No one in our family had ever ridden a Segway so there was some concern, but after literally 1 minute on them we were hooked.Jonas provided us with a wonderful tour of the city providing many insights. Monica was tremendous with confirming our tour a day ahead and sending a text later after we completed our tour to see if we needed anything further while in Copenhagen. A great city, a tour we'd recommend 100% of the time. Don't miss out on this opportunity.

espgil

Nice tour with a great gudie The best way to see Copenhagen. This comapany has a great staff that take care of you from the moument... read more you order to the tour is finish. Has a great location if come to Copenhagen with a international ferry but it it's about 20 min of walk from city center. The location give you also a good start if this is the first time on segway since it start in a almost car free area. You see all the importen sight of the city with a guide has many good stories about the danish people and the historic sight.

TMas777_10

Fun Segway tour Much better than useless Ho Ho buses that have tons of passengers and do a boring circuit. Nice company here... read more and they do everything to make the tour enjoyable, easy to ride Segways and good information about the city as well. Go, you won't be disappointed.....

jesperkk14

Fantastic experience for the family We had a Family outing between christmas-new years, and our guide Mathias showed us such a fun time on Segways!... read more Can highly recommend it, even though we are Danish we learned a lot and everyone enjoyed it. Mathias was very experienced in the Segways and could answer all our many, probably annoying, questions about the machines. Impressive! Thanks for a fun afternoon.

sallie412

Great Time Rasmus was an excellent guide. The group was small. I had some difficulty at first and he kept me right... read more behind him and kept checking that I was comfortable. I wish we would have know that there could have been more practice time prior to our tour if we got there earlier - we would have done more practice. The conditions of the equipment were great.It was a very fun time. We went with our adult children but certainly would be family friendly with teens. Your city is beautiful and this was a wonderful way to see some sights and learn about Copenhagen.

atkpjdv

Outstanding service and wonderful trip I have to say I was blown away by the service I received from this company. I had booked online... read more and discovered only a day before my tour that I would not get into the port in time to make my booked tour time. With a few email everything was sorted and I was re-scheduled onto a mid afternoon tour. Little did I know this tour ended up just being for myself and the guide.. I spent a wonderful two hours whizzing through the city seeing all the sites with my own private tour guide! I had a complete blast and cannot thank the staff for everything they did for me. Simply lovely people and a wonderful way to see the city.

Elin E

Also fun for the teenager A great way to get the 16-year-old on a quided tour. Great guide and a great way to get to... read more know the city. Recommend to do it on the first day of your stay.

Laura W

Great way get acquainted with the beautiful city of Copenhagen! Our group of four had a great time cruising through Copenhagen with our expert guide Jonas from "Segway Cruise Copenhagen".... read more None of us had ever rode on a segway before but with a few minutes of instruction and a little practice we were on our way! It was even more fun than we had anticipated and it was a great way to get an overview of the city of Copenhagen before venturing out on our own. Jonas was wonderful and always had an eye on safety as we made our way through the city. He even went so far as to give us some tips on areas to go for dinner later in the evening. I highly recommend this company. Thank you Segway Cruise and Thank you Jonas!

Terptent

Great 2 hour two hour tour! This is such a fun introduction to the city. I recommend doing this the first day you arrive. Our tour... read more guide (I think his name was Bruno - Blond hair, California surfer laid back attitude) was amazing. He was so friendly, knowledgeable, funny and had this calming effect on us, I suggest you ask for him! Our group only had 4 people so it made navigating the city very simple.

Jamie D

That Segway Life This was our 4th Segway experience and by far the best one yet! Rune was knowledgeable and entertaining while showing... read more us the various sites in Copenhagen. The two hour tour was just the right amount of time to get an overview of the city and we were able to navigate it the remaining two days of our visit.

susancaraway3435

Cosy Christmas tour! We booked the 3pm Copenhagen Christmas Cruise and it was a really nice tour. In their description of the tour... read more it says you get 1 hour Segway riding, and 30 minutes Christmas market exploring - and this is very correct! The segway tour was so much fun and you really see a lot of sights (much more than I actually was expecting as we didn't book a specific sightseeing tour), and it was a nice break to get to walk around the Christmas markets. You can easily cover both Christmas markets which is really nice. We had purchased the additional mulled wine offer when we came back to the shop and it was all ready for us. Really nice guide and great customer service from the Company. Can highly recommend!

Reynolds J

A great tour around Copenhagen Jonas took us on a 2 hour tour of Copenhagen—it was great. There were only 2 of us, so we... read more basically had a private tour with Jonas. Not only did he give us the history and background of the area (he is finishing university in political science), he also answered our numerous questions about what living in Denmark is like. Not only was he considerate about our use of the Segway, in getting on and off, he also gave us give to get off the machine and walk a bit. BTW, my husband is 80 and had no problem with the Segway. This is our 2nd Segway tour, and we did enjoy it immensely. In addition, when we returned to the shop we had forgotten what time our shop was leaving. They called to help us get the information. Understand that the shop is on the pier that is close to town. The Princess ship that we were on was miles away at a pier farther out—not walking distance. You can get a taxi, and maybe a bu to the close pier to pick up the Segway tour.

Susan C

So Much Family Fun! Our first Segway experience was a huge success, thanks to Rasmus! Safety first, as we all practiced before heading off... read more on our two-hour private tour. Our guide was very knowledgeable, spoke clearly, interacted with each of us, and watched over us as we proceeded through city traffic. We had updated Segways, helmets that allowed for proper use of ear pieces, and a delightful cafe break. Our tour was a terrific overview of the city, and we'll cherish the memories of family time with two happy teenagers! Highly recommend Segway Cruise... and Rasmus!

karlaschweigert15

Many recommendations! Did 2 hour tour with my husband in Copenhagen. We have been on Segways before and we both agreed this... read more was the best tour yet! Very sweet guide who knew a lot about the city and took very good care of us during the whole tour. We saw a lot and they also let you stop for pictures. Good route around Copenhagen, and very good safety instructions for people who haven't tried it before. I think this is the best way to see the city!

turbobusiness

Great tour ! Top tour 2hours in Cph ...under the rain. But everyone was happy with the ballad.Very nice guide Jonas who gave... read more us all the informations.You really should do a 2 hours tour.

Jackfern

Fun and different way to see a port. My wife and I are mid 60's. "Thought" we would give this a try. What a hoot and what a... read more great way to see the town. The equipment was good, good safety, good orientation training and a perfect pace. We will do this again somewhere else, but for those of you "thinking" about it, I recommend these folks.
Segway Tours in Copenhagen
We offer tours you can count on and the best prices. Just ask our 1000s of customers or read our plenty reviews.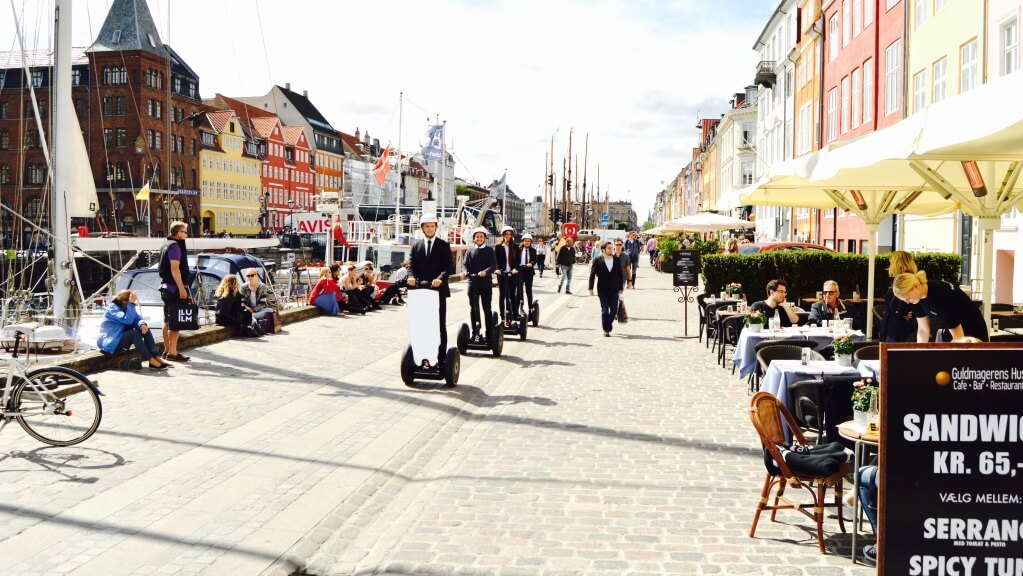 About the tour
Start / End point: Langelinie Alle 58, 2100 Cph.
You'll cover the city center from Langelinje Pier all the way to Nyhavn. Iconic!
Imagine starting your Segway Cruise Experience at our unique waterfront location, which as a result of being right on Langelinie Pier is a beautiful way to take off in a non-traffic zone!
After a short training lesson in private and spacious surroundings, you're within minutes able to see the Little Mermaid and other major attractions in Copenhagen.
The Attractions
Maritime Monument
Little Mermaid
Amalienborg
Princess Marie of Orléans
Gefion Fountain
Gefion Bridge
St. Alban's English Church
Holmen (The Marine)
The Opera
Frederik's Church (Marble Church)
Royal Danish Playhouse
New Harbour (Nyhavn)
The Standard (Old ferry terminal)
Kings New Square (Kgs. Nytorv)
Kastellet (The Citadel)
Book this tour now because it's a fast and fun way to get to know Copenhagen!
Bonus!
We'll end your Tour with a little Segway souvenir alongside your complimentary organic refreshment – this is especially in line with our belief of a green, sustainable lifestyle.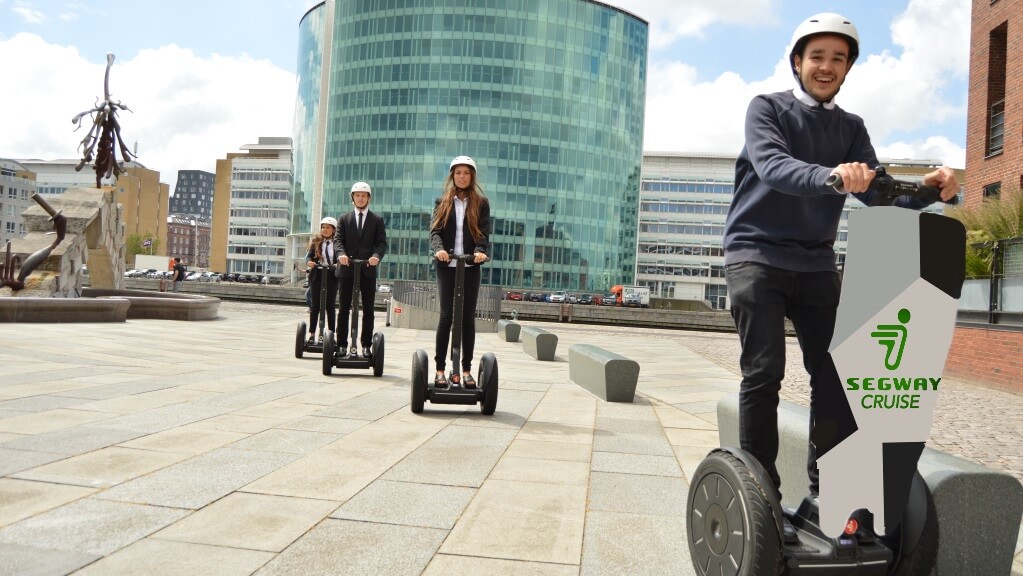 About the tour
Start / End point:
Langelinie Alle 58, 2100 Cph.
Imagine just cruising away on your Segway® PT together with your guide fully being able to take in Wonderful Copenhagen and all its senses!
You start off in a non-traffic zone alongside the pier – trust us when we say it is a beautiful way to take off.
After a short training lesson in private and spacious surroundings, you're within minutes on your way to see the major attractions.
The Attractions
Maritime Monument
Little Mermaid
Amalienborg
Princess Marie of Orléans
Gefion Fountain
Gefion Bridge
St. Alban's English Church
Holmen (The Marine)
The Opera
Royal Danish Playhouse
New Harbour (Nyhavn)
The Standard (Old ferry terminal)
Danish National Bank
Børsen (Danish Stock Exchange)
Royal Danish Library (Black Diamond)
Ny Carlsberg Glyptotek
Tivoli
City Hall Square
Christiansborg (Danish Parliament)
Kings New Square (Kgs. Nytorv)
Royal Danish Theatre
Odd Fellow Mansion, Copenhagen
Frederik's Church (Marble Church)
Inner Harbour Bridges
Strøget
Kastellet (The Citadel)
Book our 2-hour cruise now because it simply covers everything you must see when you visit Copenhagen.
Bonus!
This option includes a small break halfway through at a "hyggelig" Danish & Organic cafe – August B – in the Royal Theatre. Special offers apply for our Segway Cruisers.
We'll end with a Segway souvenir alongside your complimentary, organic refreshment – especially in line with our belief of a green, sustainable lifestyle
Corporate Events
Want a top-notch event you can just book and let us handle? Then book your VIP Corporate get-together with Segway Cruise.
We have many ideas that can go on for an entire day or just a few hours. Segway Cruise does everything from team-building activities, fun-games, obstacle courses, treasure hunts and much more! We can also tailor-make different sightseeing tours by Segway.
PRIVATE Segway TOURS
Would you and your group like a private tour of Copenhagen by segway?
We will ensure that you with your own guide can start the chosen Segway Cruise at a time suitable to you. We can even do a Tour Package for you! We have many preferred high quality partners throughout the City, so if we can be of assistance with arranging one or more gastronomic experience(s) as well, just let us know and we will incorporate it.
Our Segway Tour keeps your group together!
Let us arrange a Rickshaw or a bike on the side for the people in your group who don't want to or unable to cruise on our Segways.
Their loss of course! But it's a great way to keep your group together and experience Copenhagen with one of our top-notch guides. We will have it all ready for you for your arrival. Call or email us to get a quote and pre-book this option!

Great prices
Best prices on Segway Tours in Copenhagen – Guaranteed!

Proud Favourite
We are proud to be the no. 6 out of 125 best things to do in Copenhagen

Cruisers love us!
We just received the rare Tripadvisors Certificate of Excellence 2018
Frequently asked questions
How to find us
TAXI / CAR:
Use LANGELINIE ALLE 58, 2100 COPENHAGEN. This will take you to the backside of our store. Just walk through the big arches and there we are!
On the backside we have ample of paid parking in the Green Zone (click here to see prices!).
Alternatively there is some limited FREE parking right at the beginning of the pier, across from where the outlet shops begin. If you feel lucky then input on your GPS: LANGELINIE KAJ. This address will take you to the front of the Pier. If you are coming to us from the waterside/frontside, we are on Langelinie Kaj # 50. We are the last of the outlet shops, after the stairs.
PUBLIC TRANSPORT:
Closest station is Oesterport station, which is a 10-12 min walk from us, Langelinie Alle 58.
Bus #26 (click here for info) takes you to India Kaj, where you need to get off. It is right before a roundabout and the walk over to us is just 3-5 min.
If you are coming by bus – then did you hear the one about the woman and her baby? A woman gets on a bus with her baby. The bus driver says: 'Ugh, that's the ugliest baby I've ever seen!' The woman walks to the rear of the bus and sits down, fuming. She says to a man next to her: 'The driver just insulted me!' The man says: 'You go up there and tell him off. Go on, I'll hold your monkey for you.'
CRUISE SHIP GUESTS
If you are on cruise ship with a stop in Copenhagen, we are at your door step on Langelinie Pier #50 ready to take you on a tour and back to your cruise.
If your cruise arrives at the Ocean Quay terminal, we offer a FREE* (see below) pick up service to Langelinie Alle 58 – please book as normal on our booking page and preferably give us a heads up on info@segwaycruise.com or call +45 31 63 63 80. Just be sure to keep your taxi receipt!
CITY BASED GUESTS
For our non-cruise guests who are coming from other locations in the City center, we also offer a FREE* (see below) taxi ride to our store just remember to show us the receipt! Kindly proceed to book on our booking site as normal.
* Max 50 DKK per person and only one discount service per booking.
Example: 3 persons under one booking = max 150 DKK off the taxi receipt – not inclusive of any tips and waiting time. 150DKK is the usual taxi price from the city center to Segway Cruise. Taxi offer only applicable when booking made directly via this website. Cannot be combined with any other discount offer/code or gift-card holders. 
Call if in doubt.
The Segway procedure
STEP 1:
Once we have completed a quick check-in, where you get your helmet, radio equipment and sign our liability waiver, we take you to our waterfront training ground, right behind our store. Here, we have ample of room to train you in great surroundings – no traffic, no disturbances, no people staring – just us, you and the machine!
Our guests usually have the Segway technique down within 5 minutes – it is that easy!
STEP 2:
Depart on your chosen Segway Sightseeing Cruise with your guide .
Imagine yourself cruising on a state-of-the-art-machine through the beautiful streets of Copenhagen with the wind in your hair, having a great time!
STEP 3:
You will end your Segway Cruise experience back at our store where a complimentary, organic refreshment awaits you. Not only that but you will also receive a little fun Segway souvenir….
Many of our guests hang out afterwards and enjoy the sea-side view. Feel free to do so as well!
THE SEGWAY MACHINES
Segway® PT's
A Segway is a self balancing transportation device that allows you to freely move around where ever you want to go. It's super easy to use a Segway – it uses a gyroscope to detect the movement of your body. When you lean forward it goes forward, when you lean backwards it reverses. The Segway slows you down if you are going too fast and it will hold your balance perfectly as long as the tires have traction. You should never jump or do tricks on a Segway.
Segway Cruise only uses the latest Segway models and we are owned by the Segway Distributor in Denmark.
Is it difficult to cruise?
No, to put it simply! Our qualified guides will patiently train you until you feel safe on your Segway. But most of our guests are ready to go within 5 minutes! But no pressure, take your time regardless.
Once you get the connection with the Segway, you are ready to go! The Segway uses a gyroscope to detect your movement: lean forward to drive, lean backwards to slow down or stop, and control the directions with the handlebar – it really is that simple!
As the authorized Segway tour operator in the country we always have the latest machines for your safety!
Our spacious waterfront training ground is the ideal private setting to learn and practice. Our location makes it possible for you to take off through quiet 'no car' paths and ease into the traffic.
Guided segway tours with radios
Imagine cruising through the charming streets of Copenhagen on your own Segway while listening to your guide's exciting live commentary of the monuments and sights that you pass.
Our local guides really make an effort in knowing some out-of-the-box anecdotes and facts that you might actually remember! We do pride ourselves in that we have a solid team of enthusiastic tour guides with solid knowledge of Copenhagen.
The language
Our Sightseeing Tours are all conducted in English. If we have a Danish speaking group only on a Segway Cruise Tour then we try our best to accommodate that. But our guides speak multiple languages such as German and Spanish. Please contact us if you want a tour in another language.
COPENHAGEN CARD (Yes, we accept)
We accept both cards which each gives you a 15% discount on our Segway Tours. To get the Copenhagen Card discount, use the code: Cphcard. Please remember to bring your card to confirm your received discount once you get to the store.
We sell the Copenhagen Cruise Card. The price is 299 DKK / 40 EUR. It's a tailor-made 12-hour city card for cruise guests which includes: 3 visits of own choice (between 79 museums and sights) + free public transportation in the entire Copenhagen Region + discounts on restaurants, attractions + Bring along 2 children under 9 years for free. For full terms read here: www.copenhagencruisecard.com
If you want to purchase the Copenhagen Cruise Card we advice to email/call us ahead to reserve or purchase, to ensure availability.